Oct 29, 2021 5:55:57 PM
Tinubu supports the Surety Bonds Power of Attorney Verification Lab
Paris, October 29th, 2021 Tinubu, the market leader for enterprise software solutions to Credit and Surety Insurers, announces its support to the Surety Bonds Power of Attorney Verification Lab. project.
The RiskStream Collaborative™ is a risk management and insurance enterprise-level blockchain consortium affiliated with The Institutes, which is the leading provider of risk management and insurance knowledge education and solutions and offers professional designations, including the CPCU® program.
The Surety Bonds Power of Attorney Verification Lab aims at streamlining the management of power of attorneys for the ecosystem, including agents, surety carriers and obligees.

The project is supported by all major surety associations to accelerate digital transformation and simplify the development and adoption of blockchain technology in the industry.
In line with its commitment to facilitating the digital transformation of the surety industry, Tinubu Square joined the project to bring its experience in digital processes and in blockchain technology.
"Through this project, the Surety industry is continuing its digital transformation journey and demonstrating its willingness to innovate to better serve its customers." said Thomas Frossard, Tinubu Head of Innovation. "Blockchain being a team sport, Tinubu's Innovation LAB couldn't but join the scrum to contribute to make it a success."
This week, the project leaders have announced a key milestone as the project will soon reach its second phase. During this new step, participants will pool their resources to build together a proof of concept.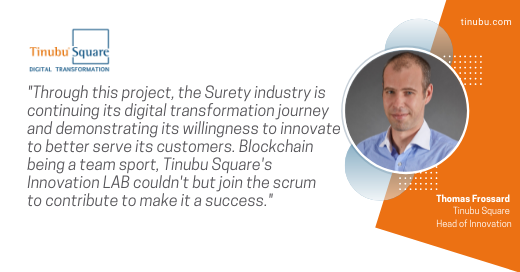 The Surety Associations involved are:
The Companies backing the proof of concept are:
Alliant Insurance Services
Aviva Insurance Company
W. R. Berkley Corporation Surety
Chubb
Liberty Mutual Insurance Mutual
Marsh
Merchants Bonding Company
M.J. Schuetz Insurance Services
Nationwide
Newton Bonding
Old Republic Surety Company
Parker, Smith & Feek
Patriot Growth Insurance Services, LLC dba Turner Insurance & Bonding Co.
Pitts Birdsong Bonds & Insurance
RLI Insurance Company
Scott Insurance
The Cincinnati Insurance Companies
The Hartford
Surety Place
Tinubu Square
Travellers
Tucker Agency
Turner Insurance & Bonding
ZipBonds.com
Zurich Insurance Company Ltd