What's your take on Business Transformation and New Challenges for Export Credit Agencies?
Jun 21, 2021 10:11:09 PM
What's your take on Business Transformation and New Challenges for Export Credit Agencies?
As we are still witnessing the impact of the sanitary crisis on global economy, future perspectives look promising and need to be strategies as soon as possible.
Embracing new challenges means adapting and transforming fast, hence adopting the acceleration of digitalization as a long-term vision. We can look at how to bounce back and create new opportunities.
Trade Credit Insurance has been a safe value for doing business for decades, and there is definitely a lot to tell about the challenges and business opportunities this industry sector can provide today.
Join us to share your view with your peers and discuss ideas with key players of the industry.
The panel will include:
The Moderator will be Jérôme Pezé, CEO and Co-founder, Tinubu Square.

This online event is organized with Deloitte, HDA Conseil, and International Financial Consulting. It will start at 2:00 PM (CET) on Wednesday 30 June.
The roundtable with our panel will be followed by a question-and-answer session with the audience.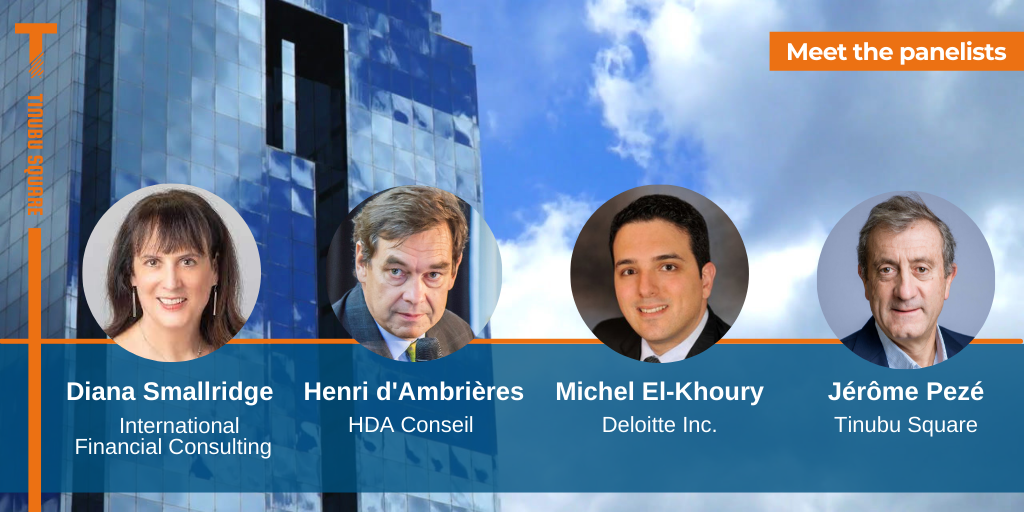 Diana SMALLRIDGE
President & CEO of International Financial Consulting
Diana Smallridge is President of International Financial Consulting, a firm she founded in 2000. Diana has worked with multilateral, bilateral, and national development banks, agencies, institutions, and governments around the world in some 70 countries. Diana's primary focal areas are institutional strategy, performance evaluation, and governance. She has an excellent network, accessing senior leaders throughout the world to identify best practice approaches to complex development and climate finance challenges. She has won recognition as a pioneering thinker and advisor on climate finance and development finance issues and is a sought-after guest speaker, facilitator, and chair in workshops and conferences around the world. She has published extensively on climate finance. Diana has worked with the Inter-American Development Bank on numerous occasions, including developing the Guidebook on Climate Risk for National Development Banks. She developed the Full Potential© strategic planning methodology which is applied in projects worldwide, as well as the Health Diagnostic Tool© to measure the overall performance of financial institutions with a development mandate. She holds a M.A. Economics from Queen's University, Kingston, Ontario.
Michel El-Khoury
Lead Consulting Partner, Government Financial Services at Deloitte Inc.
Michel El-Khoury is a Partner in Monitor Deloitte, Deloitte's Strategy and Business Design practice. He is the Lead Consulting Partner for Deloitte Canada's Government Financial Services practice. Michel has 15 years of consulting experience across strategy, innovation, operations, and technology.
In his current role, Michel leads Deloitte's commercial and eminence activities in serving development banks, export credit agencies, central banks, and other government-affiliated institutions with a financial services flair. Michel's functional areas of expertise include corporate strategy, product strategy, channel, and digital strategy, and business transformation.
Prior to joining Deloitte, Michel was a technology consultant with Ericsson where he deployed internet-based TV solutions to telecom providers around the world.
Michel is fluent in English, French, and Arabic. He has worked extensively in Canada, the US, Brazil, Sweden, and the Middle East, in addition to shorter assignments around the world. Michel holds an MBA from Cornell University, USA, and a Bachelor's of Engineering degree (Magna Cum Laude) from the University of Ottawa, Canada.
Henri d'Ambrières
CEO of HDA Conseil
Henri d'Ambrières joined Credit Lyonnais in 1984. Based in Paris or Madrid (5 years), he held several positions in Project & Export Finance (8 years) or in Corporate Finance (3 years). Back in Paris in 1995, he spent two years in Human Resources before joining again Project Finance as Deputy Head of Natural Resources.
He was appointed Global Head of Export and Multilateral Finance in 2002 at Crédit Lyonnais. He was Global Head of Export Finance of Calyon then Credit Agricole CIB from 2004 to 2012. He also managed the commercial activities in Trade Finance from 2008 to 2012.
He chaired the Export Credit Group of the European Banking Federation from 2008 to 2013 and has been involved since then in the management of regulatory issues.
Since 2013 with HDA Conseil, he has advised companies (Degrémont, Razel,...), banks (Bpifrance, EIB,… ), ECAs (US Exim,…) or the OECD in Structured Finance and in the financing of international development. He is also a Technical Advisor for the Trade Register of the ICC (International Chamber of Commerce) and has chaired 2018 the Advocacy Group of the ICC Banking Commission.
He has been a Director of several companies in France and in Spain (including Inmobiliaria Colonial in 2013-14) since 2005. He was also involved as an expert in Export Finance in arbitration cases.
Born in 1960, Henri d'Ambrières holds a French MBA (HEC). He speaks French, English, and Spanish.
Jérôme Pezé
Chief Executive Officer and Founder of Tinubu Square

Jérôme is the CEO and Founder of Tinubu® Square which he launched with Olivier Placca in 2000. His capability to embrace both New Technologies and the insurance world resulted in the successful digital transformation of many Credit Insurance and Surety Bond companies which outperformed the market and took share from the competition. Prior to founding Tinubu® Square, Jérôme spent a decade at Euler-Hermes playing a leading role in developing the Group's international risk expertise and global network. He had also built a previous 10 years of experience at Arthur Andersen, Renault S.A, and Paribas Group. Jérôme graduated with a master's degree from the Stanford Graduate School of Business and the ESC Reims Business School. He served as an Advisor both for the French Military Operational Reserve and for International Trade. He is also a member of the Commission de l'Intelligence Economique.
Need to rethink the public versus private model?
A market analysis thought by Jérôme Pezé, Tinubu's Chief Executive Officer and Founder.
Read more