Nov 17, 2021 6:14:19 PM
Tinubu at 2021 Fintech Abu Dhabi Festival
FinTech Abu Dhabi is MENA's leading event that explores the next frontier of financial technology and innovation. Co-hosted by Abu Dhabi Global Market and the Central Bank of the UAE, the event powered by Unbound, brings together influencers and innovators who are pioneering the new wave of innovation across financial services.
This year edition will offer a combination of virtual and onsite sessions. Participants located all over the world will be able to discover many contents broadcast via the event's website while participants present in person will be able to exchange views.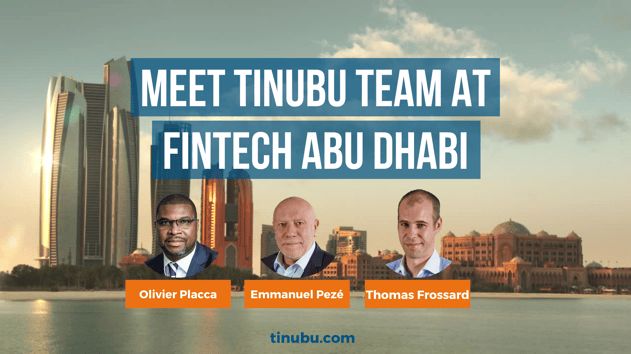 During FinTech Abu Dhabi, you will be able to meet some members of the Tinubu Square team including Olivier Placca, Group Deputy CEO & Co-founder, Emmanuel Pezé, Vice-President Insurance Sales, Middle East & Africa, and Thomas Frossard, Head of Innovation.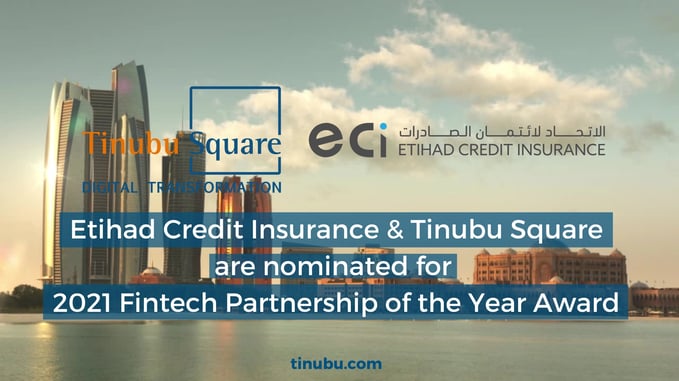 2021 Fintech Partnership of the Year Award
The Awards Ceremony recognises the leading achievers of their respective fields in regional financial services.
Tinubu Square & Etihad Credit Insurance are shortlisted for the Fintech Partnership of the Year award.
The winners will be announced at the Fintech Abu Dhabi - Awards Ceremony happening on Wednesday 24th November between 3:15 and 4:00 PM (UAE time).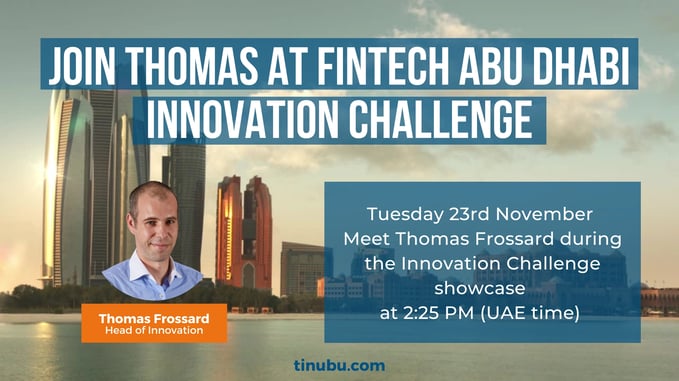 Innovation Challenge 2021 Finalist
This year, the Tinubu LAB lead by Thomas Frossard has submitted a solution to a problem statement posed by Etihad Credit Insurance (ECI) as part of the 2021 Fintech Abu Dhabi Innovation Challenge.
The Tinubu LAB is selected as one of the two finalists for the following challenge statement: "We are searching for alternate ways to risk assess and rate countries within a regionally-cohesive context, by using criteria such as political stability, fiscal policy, legal frameworks, and ease of doing business among others, in order to better underwrite corporate policies."
On Tuesday 23rd November, Thomas Frossard will be pitching during a showcase held at 2.25 PM (UAE time).
If the Tinubu LAB is selected by ECI for this challenge, the team will have an opportunity to work with ECI to develop a PoC.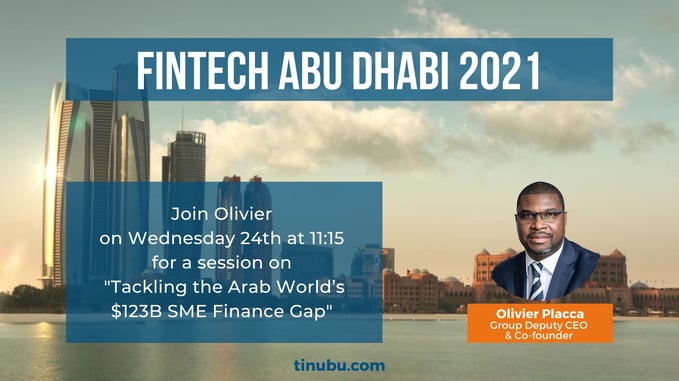 Conference
On Wednesday 24th November at 11:50 AM (UAE time), Olivier Placca will be one of the panelists of the conference focusing on "Tackling the Arab World's $123B SME Finance Gap".
In the Arab world, SMEs account for 97% of businesses, employ half of the total labour force and represent up to 40% of GDP. The same region also has the lowest percentage of bank credit. This session explores the factors causing this gap, the cost to competitiveness and growth and ponders solutions in fintech.
The other panelists will be:
Bin Ru Tan, CEO (Southeast Asia), OneConnect Financial Technology
Massimo Falcioni, CEO, Etihad Credit Insurance
Andre Casterman, Founder, Casterman Advisory and Chair Fintech Committee, ITFA
Nadine Chehade, Senior Financial Sector Specialist, World Bank (Moderator)
Meet Olivier during this Risk 4.0 session that will take place on the main stage of the ADGM Atrium.
Discover the full program on the Abu Dhabi Global Market website.
Fintech Abu Dhabi is free to attend. Register now to claim your virtual pass giving you access to all sessions on the 23 & 24 November!
Tinubu Square is a proud sponsor of 2021 Fintech Abu Dhabi Festival
Reactive Innovation is not Digital Transformation
An interview with Thomas Frossard, Head of Innovation & Surety products.
Read more