Jun 2, 2021 11:47:29 PM
Tinubu at AGC 2021 conference
Since the pandemic, we have not been able to meet face-to-face. Well, that is all changing and it's starting with the Associated General Contractors (AGC) of America.
Tinubu Square is sponsoring and attending the 2021 Surety Bonding and Construction Risk Management Conference at the Hyatt Regency Coconut Point Resort and Spa in Bonita Springs, FL. This three-day conference is held from June 2-4, 2021.
It follows part one, which was held virtually on January 26-28, 2021. This surety- and construction-focused event will be for thought leaders in the field of construction risk management:
Insurance Carriers and Brokers
Sureties and Bond Producers
Senior Executives of construction companies
Lawyers
Risk Managers
Service Professionals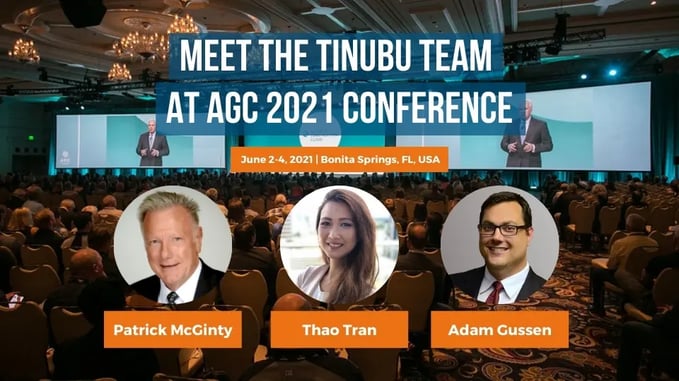 If you're attending, stop by our table outside of the Calusa Ballroom and let's have a chat. Come meet our team:
Adam Gussen

- VP Surety Americas

Pat McGinty

- Tinubu SurePath Digital Business Development Advisor

Thao Tran

- Marketing Lead Americas.
You can grab our flyers to learn more about TInubu Square or you can visit us at tinubu.com.
We're looking forward to meeting you. See you there!