Dec 9, 2022 3:00:00 PM
Tinubu at the 2022 EXIM Annual Conference

The Export-Import Bank of the United States (EXIM) is hosting its first in-person event in Washington, DC since the pandemic. Next week, the hybrid conference will also be taking place online for those who are unable to physically attend.
With more than a thousand registrations, discussions will be centered around global export development with innovative leaders in government, policy, finance, business, and media.
The agenda includes the following topics:
The Way Forward for Africa and U.S-Africa Relations
Financing Africa: Untapping Growth Potential on the Continent
Supply Chains in an Era of Instability and Impacts on U.S. National and Economic Security
ECA Financing Around the World: International Trends in Export Credit
Advancing Competitiveness for a More Robust Business Outlook
Expanding Globally: How Small Businesses are Reaching New Markets
Whole-of-Government Synergy: Interagency Support for Export and Development Finance
Global Markets, Local Impacts: The Role of State and Local Governments in Supporting American Competitiveness
The Future for American-Made Clean Energy Technology
State Trade Expansion Program (STEP) Grants to Fund Small Business Export Growth
A Conversation on Energy Security and the Global Energy Transition with Jennifer Granholm, Secretary, U.S. Department of Energy
Promoting American Economic Competitiveness on a Global Scale
Advancing Women in Business : Challenges and Opportunities
Issue Spotlight: The Partnership for Global Infrastructure and Investment (PGII)
Shaping the Future: New Technologies, Critical Minerals, and Transformational Exports
2022 EXIM Annual Conference
Omni Shoreham Hotel
Washington, DC, December 13, 2022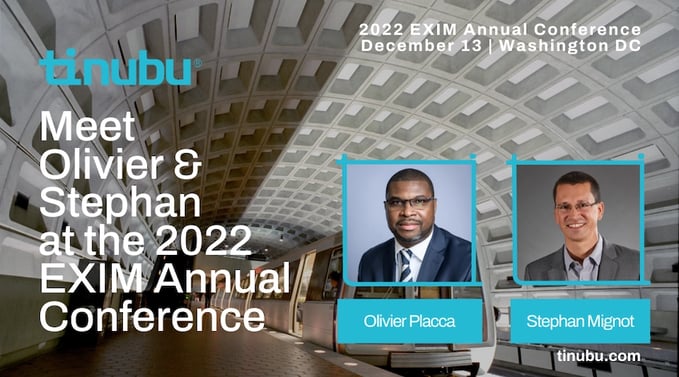 Tinubu will be attending the conference next week. If you would like to meet with Olivier Placca, Group Deputy CEO and Co-founder, or Stephan Mignot, Senior Vice President America, please contact marketing@tinubu.com to schedule a meeting today.
Follow along with the conversation using the hashtag #EXIM22 on social media.
See you in the capital!