Apr 13, 2023 12:15:00 PM
Tinubu at the NASBP 2023 Annual Meeting

The Tinubu team will be in Marco Island, FL for the 2023 National Association of Surety Bond Producers (NASBP) Annual Meeting on April 30-May 3, 2023! Come visit our BOOTH #18.

We'll be doing live demos of our two industry-leading products:
Tinubu Surety Solution for Brokers & Agents
Tinubu Surety Solution for Carriers
If you would like to book a one-on-one session at the conference, please send us a message.
Meet the Team at Booth #18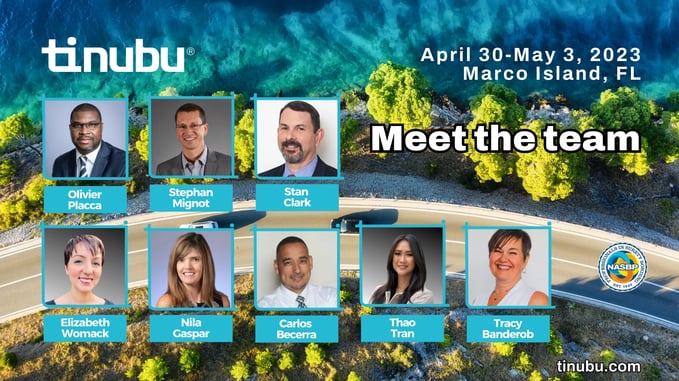 Conference Agenda
Saturday, April 29th
8:00am - 6:00pm Committee Meetings
Sunday, April 30th
11:00am - 5:30pm Registration Open
3:00pm - 4:30pm Tinubu-sponsored happy hour in the Expo Hall*
5:30pm - 7:30pm Welcome reception on the beach
Monday, May 1st
7:00am - 8:00am Breakfast and Expo Hall Open
8:00am - 10:00am Welcome Ceremony, President's Address, and Keynote
10:30am - 12:00pm General Session
12:00pm - 2:00pm Lunch
5:00pm - Late - Carrier Parties
Tuesday, May 2nd
8:00am - 9:00am Breakfast
8:00am - 12:00pm Expo Hall Open
9:00am - 11:45am General Session
9:30am - 11:30am Spouse and Guest Event
1:00pm Golf Tournament
3:00pm - 4:30pm Women in Surety Reception
6:30pm - 11:00pm Havana Nights
Wednesday, May 3rd

*Tinubu is the Gold+ sponsor for the NASBP 2023 Annual Meeting and is a first-time Platinum sponsor for the Women in Surety (WIS) organization.

See you in the Sunshine State!


Tinubu Surety Solution for Carriers Product Sheet
A fact sheet about the Tinubu Surety Solution for Carriers, an industry-leading surety underwriting software.
Read more