Credit insurance, export credit and funds: How do we solve the African trade finance gap?
Jun 26, 2023 3:00:00 PM
Credit insurance, export credit and funds: How do we solve the African trade finance gap?
Tinubu has partnered with Trade Finance Global (TFG) to present a virtual event, exploring the challenges and opportunities for the African credit insurance industry.
While the African market is very promising, it has been ignored by many major economies. However, there are signs of market shifts, with intra-African trade increasing after the expansion of the African Continental Free Trade Area (AfCFTA), and the work of multilateral and international financial institutions.
Although there are signs of new and expanded market opportunities to create a sustainable and successful trade credit insurance industry, there are many questions that need to be discussed, and much collaboration is needed.
This Tradecast aims to bring together leaders from the public and private sectors to discuss how to expand an open, sustainable, and successful trade credit insurance market in the African continent.
The tradecast will touch on:
A brief overview of private/public trade finance and credit insurance landscape across Africa
Geopolitical and macroeconomic and sovereign debt/defaults overview and how this impacts the credit insurance landscape in Africa – deep dive into MENA, West, East and South Africa
Opportunities in the African continent (including AfCFTA): the untapped market for new investors.
How could new technology improve opportunities?
Access to finance and liquidity in the market: how to increase capital in Africa – a multistakeholder approach
The business case for the creation of new ECAs in Africa, as well as exploring opportunities for credit insurance
Local development: how African finance players can emerge to help support intra-African trade, SMEs and boost growth at a grassroots level
What are sustainable ways for increased external investment? How to avoid the trap of external stakeholders over-imposing themselves on regional actors/countries?
Governance: role of national governments and multilateral in supporting African trade.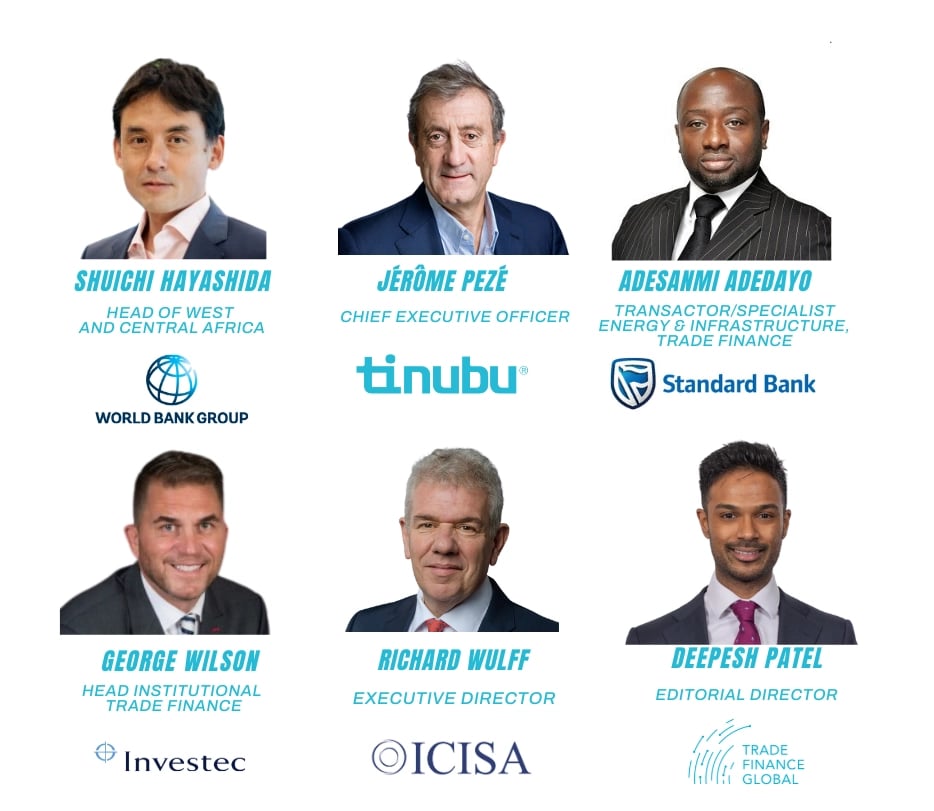 The speakers will be:
Shuichi Hayashida, Head of West and Central Africa, MIGA
Jérôme Pezé

,

CEO at Tinubu,
Adesanmi Adedayo, Transactor/Specialist Energy & Infrastructure, Trade Finance, Standard Bank South Africa
George Wilson, Head Institutional Trade Finance, Investec

Richard Wulff

,

Executive Director at ICISA,
This online session will be moderated by Trade Finance Global's Editor, Deepesh Patel.
This Tradecast was live on 10 July at 7:00 EST - 12:00 BST - 13:00 CET and streamed live on LinkedIn, YouTube, and Facebook.
For more information and registration, check the Trade Finance Website .
Watch now the replay of this tradecast on Trade Finance Global.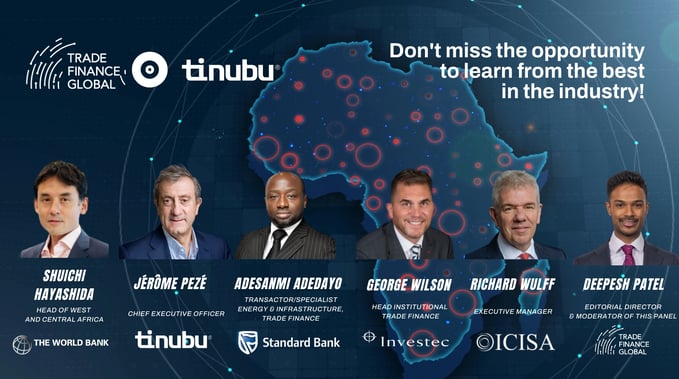 How technology can unlock trade finance's contribution to SMEs
A market analysis thought by Thomas Frossard, Head of Innovation Lab, about the contribution of technology in the trade finance's contribution to the SMEs
Read more