Oct 17, 2022 12:00:00 PM
Tinubu at GTR Africa in London
African nations are striving to build self-sufficient economies for sustainable growth and to improve living standards. With young, growing workforce-aged populations, building domestic industry capability is critical to creating jobs.
Exploring Africa's opportunities through trade, finance and innovation

GTR Africa 2022 will return to London on November 2 to provide the latest developments on a range of topics including trade and commodities, ECA and infrastructure finance, sustainable development, fintech innovations and more.
This event is the opportunity to connect with all corners of the market, from local and international banks to multinational corporations and SMEs, independent financiers, commodity brokers and traders, insurers and risk managers, lawyers, consultants, ECAs, multilateral and more!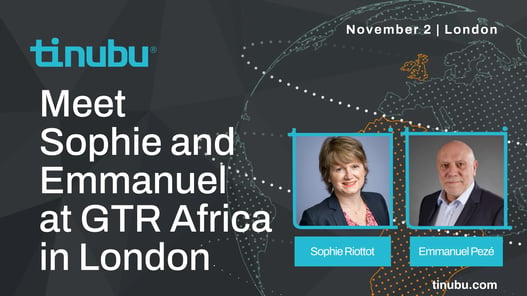 Sophie Riottot, Executive VP & CRO EMEA APAC, will be among the 40+ speakers. She will address the following topic "Charging-up African fintech - digital hoops and overcoming obstacles" on Wednesday 2 November at 14:45.
With mobile banking prolific across Africa and adoption helping to narrow the gap in unbanked service users, the future for the continent's fintech and payment ecosystem looks bright. Despite this optimism, there remain barriers to further inclusion, including outdated regulation and legal frameworks, and systemic challenges around client data and information requirements. How can digital trade finance services be further developed to democratise Africa, and what role can solutions play in simplifying due diligence processes?
This conversation will focus on digitisation as a vector, the scope for financial inclusion in areas like bank accounts and credit services, and how traditional finance and African fintech can best collaborate on service deployment, reducing barriers to entry for financiers and borrowers alike. It will also consider the steps African regulators can take over trade rule-design, as well as expanding data initiatives such as KYC, simplifying client documentation, minimising fraud risks and reducing compliance and rate costs.
Moderator: Tedd George, Chief Narrative Officer, Kleos Advisory UK
Raj Uttamchandani, Executive Director, Trade Finance Market

Bob Blower, Chief Executive Officer, Clarency

Aba Schubert, Chief Executive Officer, Dorae

Sophie Riottot, Executive Vice President & Chief Revenue Officer, EMEA & APAC, Tinubu

Odunayo Eweniyi, Co-founder & Chief Operating Officer, Piggyvest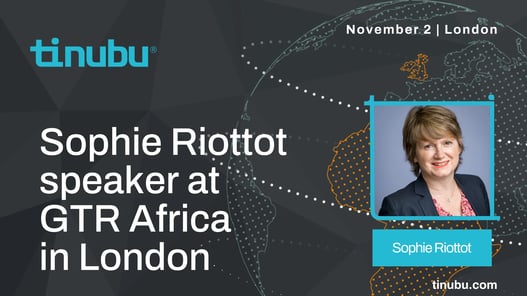 Let's set aside a time to meet and catch up. To schedule a meeting with Sophie Riottot and Emmanuel Pezé, just click on the following button.
For more information on GTR Africa in London, visit the GTR website:
GTR Africa in London.
GTR Africa in London will be held at
etc.venues County Hall in London, UK

Digital transformation: a powerful tool for growth in the Middle East
A market analysis thought about the impact of digitalization on growth in the Middle East region, by Emmanuel Pezé, VP Insurance Sales, Middle East & Africa
Read more