Should you Rely on a Business Intelligence Software?
Credit Insurance
Jan 21, 2021 1:30:00 PM
Should you Rely on a Business Intelligence Software?
Efficient digitalization means better performance and higher competitivity for any business. However, the concern is about data. While a company can collect a huge amount of data available, does it have also the necessary tools to adequately take advantage of properly analyzed data? Hence the use of Business Intelligence. This is an essential assessment you should make when building your digitalization strategy. In this first article we share our experience with the Business Intelligence software we have selected: Microsoft Power BI.
Since many years now, our world is undergoing a digital transformation that has greatly changed our behaviours in both our personal and professional life. More recently, it has become plain that this transformation was accelerating, deeply influencing every business sector or industry, and increasingly impacting most of what we do.
In our daily activities, we, as users, customers, service providers, workers or managers think "digital", consume "digital" and operate "digital.
Imagine yourself today living your life or being at work without a smartphone or an internet connection? Sounds quite impossible, right?
For what has become today the essential raw material of any business or activity? DATA!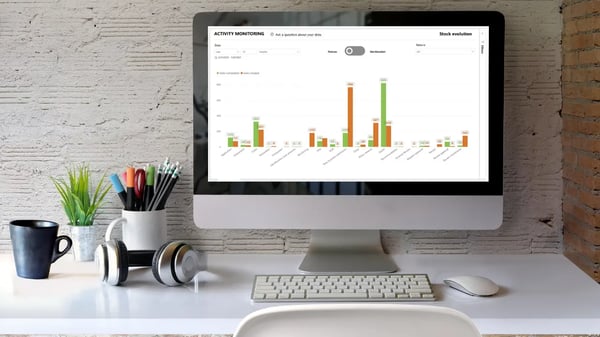 The use of data for business performance
Key forecasts and decision-making processes rely solely on the quality of your data and their real-time availability. Data are everywhere and plentiful, but a vast sea of data is only confusing if you can't process, analyze or rationalize them efficiently and rapidly.
We could therefore safely say that the capacity of your information systems to:
collect massive amounts of data in real time

and analyze this flow of data in real time
is key to the success of your Credit Insurance or Surety business.
Every company is looking for the guaranty that their data and cloud services will be fully supported at all time, whether their activities spread on a global scale or is purely local.
When managing your specialty line business, you are generally facing multiple sources of information giving miscellaneous data you cannot trust, aggregated with no intelligence. The lack of a dedicated Database for Business Intelligence decreases your performance as well.
Microsoft Power BI
Before integrating Microsoft Power BI in both our Credit Insurance & Surety SaaS Solutions (the Tinubu® Square CIS and eSURETY® Platform) we wanted to be sure it would perfectly fit our own solutions and enhance them.
So, we did test it from the perspective that we intended to continue to offer carriers best-in-class technologies in the long run, answering all their changing or new needs.
What we found is that Power BI gave us key benefits such as powerful insights, a scalable solution, customization of reports and settings on the fly. It also fits totally with our specifically designed CIS data model, increasing the suitability of your data and efficiency.
Choosing Power BI was for us the assurance of benefiting from the best technical tool with a high level of security of data!
Configuration is actually very simple and allows carriers to personalize the reports they need. You can also easily connect to the Data Warehouse for your own needs of data analysis and prediction.
Another advantage is its cost; it is very affordable and allows us to continue offering high-end technological services while remaining cost-competitive.
To conclude, we found Microsoft Business Intelligence solutions to perfectly adjust to and match the need for digitalization in the Credit Insurance and Surety industry. It is for us an essential tool to facilitate your business strategic decisions and growth in our modern world.
---
Most recent articles
Credit Insurance
Sep 11, 2023 5:59:37 PM
Read more
Business Intelligence for Tinubu Credit Insurance fact sheet
A fact-sheet on the powerful integration of Power BI with Tinubu Credit Insurance. Discover our technological partnership.
Download